Atlantic Ventilating & Equipment Company was founded in 1965 by Martin F. Cosker, known by friends and customers as "Bud", Jack Cosker, and Bill Cosker. Atlantic originally started business in Farmington, Connecticut and three years later relocated to the center of the state in Cromwell. From 1968 to 1980 the company operated from Alcap Ridge and in April of that year moved into a newly constructed building just next door on Sebethe Drive, where it is today.
Throughout the eighties Atlantic was very successful providing service support for Southern New England's major industrial manufacturers and for Connecticut's small businesses. As the company gained recognition and respect it was also soon acknowledged that there were no jobs too large or too small for us to handle.
In the late eighties and early nineties Atlantic's ownership changed hands from Bud and his brothers to Bud's sons Tom and Terry Cosker. Tom went on to become President and has now been with the company for over forty years.
Throughout our history Atlantic has concentrated on providing exemplary service to our customers. Prompt response from our sales, technical and installation personnel has been the cornerstone of our business. We pride ourselves on maintaining a comprehensive knowledge of our industry and keeping a competitive edge by staying at the forefront of new technology. In anticipation of the next decade, Atlantic has invested heavily in sophisticated shop machinery and field equipment.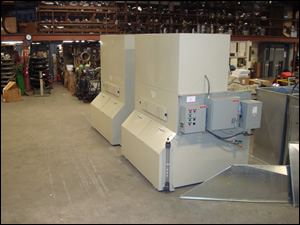 In addition to our broad experience in industrial sheet metal, we specialize in the installation of equipment such as dust collector systems, air make-up, spray booths, air compressor ductwork, and exhaust systems. We can provide complete turnkey installation on any project. We have the necessary equipment including cranes, fork trucks and man-lifts to set up a wide range of equipment. You will find Atlantic is qualified to quote on any project you may encounter. Please contact us so that we can help fulfill your requirements and provide a proposal at no cost to you. Then allow us to demonstrate our exemplary design, fabrication, and installation capabilities.